This is the Thanksgiving Table of 2006. My mumses says that it took her hours to arrange all the plates so that they were in the right order. Or something. It has to do with color I think, but anyway we were told explicitly not to rearrange them. In any way. On threat of death.

Let me take you on a trip around the eclectic table setting that is my mumses new(ish) thing. She's been collecting individual place settings for some years now and finally, more or less, has enough to do an entire meal in individual dishes.

Mr. Paul's dad sat here. The two plates match while the mug is from a different set altogether. They are all blue with snowmen on them so I guess they are all a set now. There are a couple more like that around the table; mumses makes do, apparently.

Take this one here. I think my Sis's husband sat here and while the small plate and the mug match, the bottom plate is a Waechtersbach Christmas tree plate. Me thinks Mumses needs the salad plate and the jumbo latte mug to complete the Waechtersbach Christmas Tree trio. Besides, doesn't the mug look like it is from the same mug grouping as the first place setting? Hrrrrm!

Speaking of Waechtersbach, here's the Emma/Willie mixed place setting I got for Mumses last year. Willie is the red moose on a white background pattern while Emma is the white moose on a red background pattern. Sis decided that she had to sit at the moose place setting, which caused some consternation because *I* got the place setting in the first place. That's OK, I was just poking around the Waechtersbach site (which is getting no easier to type despite mentioning it three or four times now) and I've found something even cuter than moose. Penguins! SQUEEE!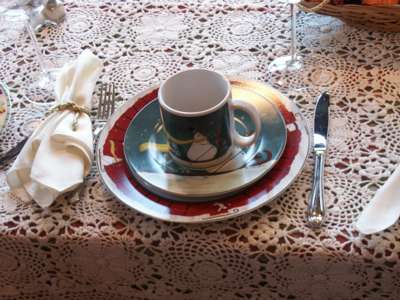 Here's a place setting that I think actually came together. At least the snowmen are quite similar to each other even if the mug and small plate are mostly green while the dinner plate is red. This was mumses place of sitting.

I can't decide if I like this setting or not. I mean, the mug is a glorious coffee shape (and big) and I like the look of the ring of critter pictures on the outside. However, the critter ring is composed of quite a lot of clich� happy Christmas pictures which I don't particularly like. Meh. This is where Mr. Paul's mom sat.

Mr. Paul sat at what we call the 'Tim Burton' place setting. That snowman has something seriously wrong with him; I think he's looking for a couple of little kids to eat. Thumpity thump thump indeed.

And this setting is also one of those clich� Christmas setting pics and also one I kinda like for whatever reason. I think it's because it looks like classic Christmas dinnerware to me. DQ got to sit at the classic Christmas spot.

TheMan, on the other hand, got to sit at the ugliest Christmas place setting known to man. I'm not sure, but I think the mug actually matches the plates. That's…just as nice as it can be. I'm thinking that mumses needs some penguin plates so she can retire this travesty to someplace where it will never see the light of day again. Unless she is throwing some sort of color blind testing or making party. The only good thing about this is that the coffee mug is a decent size.

You can't blame me for sitting at the gingerbread man spot. Nosiree, especially after I was ousted from the moose spot. Actually, I only chose this place because it wasn't the ugliest place setting known to man and had a really big coffee mug. Sadly, the gingerbread man mug and small plate don't match the large plate so I guess I'll have to keep an eye out for a gingerbread dinner plate. And a goofy reindeer salad plate and mug. I hate mismatched sets! ARRRGH!

Behold! The centerpiece! Mumses usually makes up a nice centerpiece out of things she has on hand. I think she unloaded her fruit drawer, a Ghiridelli gift box set and a few miscellaneous chocolates plus the candle to come up with this. Martha, read 'em and weep. We tried to sneak chocolates before dinner and were soundly rebuked for our failed efforts, but mumses didn't say anything about adding on to the thing. So we did. It isn't every day that you forget to take the apple you didn't eat Wednesday out of your coat pocket only to find a centerpiece that is begging for one more fruit. We hadn't started screwing around with it yet in this pic, but later on we had a lot of fun rearranging things. One of these days, mumses is going to snap and eat our faces off for dinking with her stuff.

Mumses had the house all decked out for Christmas, which included the giant wreath they put up over the mantle. It's quite a bit less blurry in real life but someone was having a stupid camera day. Yeah, hi. The giant wreath is one of the things I really like about mumses's decorating.

You are going to have to wait until Christmas for a decent pic of the tree because stupid camera day struck again and all I got was a bunch of blur. It wasn't even artsy blur. This pic is of the little town scene that is hanging out under the tree (Hey! Where are the presents going to go!). This is also why God invented manual focus. On the other hand, look at how clear those train tracks came in. Hrrmph.

For some reason, the banister got to wear a hat. Two actually, the second one is on the knob that's behind the camera. This is me gettin all artsy with the stairs hat.

And this is what you do with all those extra Mardi Gras beads…you repurpose them into Christmas decorations. I sort of dug this fella a lot. Then again, I like shiny and pretty and colorful so it's no big surprise. OoooOOoooo, Shiny!

This is TheMan getting all artsy with shapes and stuff.

We had a Thanksgiving dinner that couldn't be beat and all went home and crashed.
---
Last year at the booniverse: My plans for today were to go retail therapy-ing in the guise of Christmas shopping (whee!) but Mother Nature had some plans of her own.
---
Last last year at the booniverse: Too full of food to update. Uuuuurp.
---
The year before at the booniverse: I have been itching to update all day so I decided, at the cost of many NeoPoints I might add, to go ahead and do so.