Today's entry is a graphically intensive picto-fest from the trip up. Enjoy.



The bug in its almost fully loaded glory. All it's missing is…

Cats!

Who are really unhappy about the whole cat carrier thing. Really.

But the minute you let them out, where do they go? Yeah.
Hey everyone, let's go up north! We had pretty heavy traffic for most of the lower pennisula. And we had construction, because you can not go anywhere in Michigan without hitting some sort of construction.

Traffic and cranes.

…and traffic and cranes. Those weird reflectinos of color are the insane crane possee off the windshield.

Here's the Saginaw River. It's…ummm, a river. Hey, it was there, I took a snap and now it's here. Worship my l337 out of the side window picture 5l1LLz!

Here's a much cooler bridge shot, even if you can't see the water much. This is the Zilwaukee bridge and traffic! Whooo!
We also seemed to be traveling on the day of fire.

Cool clouds…

that turned out to be a brush fire.

Then this, which was much uglier than a brush fire. Ouch.

Vande takes it all in from the back shelf.

While Isaak meows his anxiety/nervousness/anger/discomfort/ennui/excitement/dispare/sadness…that cat has a lot of emotions to express. All the time. The ENTIRE time. Scritching him calmed him somewhat.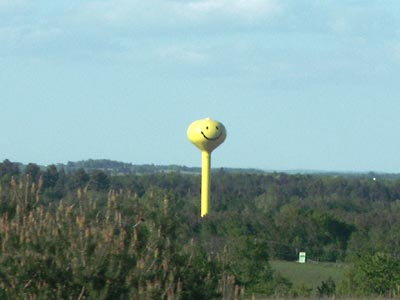 Westbranch. Have a nice day!

Here's something you don't see every day. It took quite a while of staring at this on the horizon before we could figure out what it was.

Vande watches out the front way.

TheMan set up the iSight and the computer to take pics every few seconds or so. We fired it up just before we got to the bridge.

Everyone goes up north, even the trees. I love the vistas when you get north of Gaylord…

Although there are these weird spots of dead trees every now and then. I think it has to do with the area getting more swampy.

I see the bridge! I can't remember what you got as a prize, probably bragging rights, but I think every child plays the "first one to see the bridge" game.

This is not a good sign.

The bridge. Again. It's really a very cool structure, it held (at one point in time) the record for longest span between towers.

Bridge parts. They walk up these to get to the tops of the towers. I really liked this shot for some reason.

Here's one of the towers. I think I snapped this from the sunroof. I tried to get several pics of both towers from this point of view but all I wound up with is this one and lots of sky.

This is my least favorite part of the bridge. It's grating that you can see through all the way to the lake below. Way below. And it makes a funny "RrrrRRRRrrrttt" noise as you pass over it and you can feel the tires acting all freeky like as they roll over metal and spaces. But, it's the furthest point from the railing so this is where I always drive. Today, TheMan drove across.

I tried to get a picture of the dunes and such that are pretty much all along the shore of Lake Michigan. I didn't do it justice but here's what I got anyway.
---
Last Year at the booniverse: Seriously, last night as I was in the middle of a coughing jag I swear I briefly saw my toes come out of my mouth in one particularly bad spell.