Weather be damned, it's time to PLANT A GARDEN!

I can only go so long before I give in to the plant thing and this weekend was my snapping point. I mean, it's been what, almost two months since I started thinking about starting seedlings (which I didn't but that's another post)? That's a lot of days to wait and I'm not good at waiting. I'm also not good at gardening per se since it's really cold yet I now have an apron full of plants. Poor timing but pretty apron.
Saturday LunarGeography and I had plans to get compost and plant pretties. Well we really should have gotten just the compost and then done the rototilling thing and then gotten the plants but we decided to skip the compost thing on account of the weather. We did not skip the plants thing on account of the weather because no marigold ever washed out of a truck bed doe to incessant rain. Or at least none that I know of and that's a fact (which I just made up. Hey if Wikipedia can do it I should be able to too right?). Basically, we wanted plants so we up and got plants.
I am most proud of my ability to curb my plant buying to only those plants I can reasonably put in the ground soon. Ish. I picked up some wave petunias for the porch pots since the Bleeding hearts managed to survive both a drought (what? I thought they had died last August so I stopped watering them. Hardy buggers to go without proper watering for the last part of summer and all of fall) and the winter. I figured they did me the good grace of returning so I ought to at least weed the buckets and plant some spill over flowers.

I also picked up two phlox plants to replace the creeping thyme at the bottom of one runner garden (it's just not singing to me the way it did when I first envisioned the placement), moon flowers for the side garden, these weird daisy looking chrysanthemums things for the echinacea garden, marigolds for the runner gardens, pepper plants and a hanging fuchsia basket. The basket was pretty easy to deal with.

See? Basket.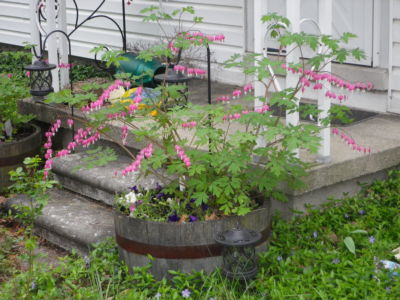 The petunias were pretty easy to deal with as well; weeding a bucket isn't rocket science. Also buckets are taller than the ground traversed by periwinkle so I didn't have to fight the ground cover battle in order to place the plants.

I did have to fight the fight on the side garden since the vinca incursion had gotten worse than I expected. I also don't have gardening gloves (they sorta got polyurethaned with last year's garden structures project) so I only went half way to town dewinterizing and pulling up rogue ground cover. I got some wikid abrasions on my hands for my efforts but I did get the garden clear enough (more or less – some clearing of leaves will have to commence later) to pop in two moon flowers.

W00t! Then I think it started to rain…again and I went inside.

The daisymums and the peppers will take a bit of cursory weeding and clearing of last summer's dead plant carcasses before they are ready to go in but that shouldn't take long. The thyme, however, I want to move to the easement rather than just rip out so I will have to start up on that soon or pop the thyme in a temp bucket and plant the phlox.

Sunday I drove out to Home Despot for garden supplies in the rain and the yuck. I did not particularly want to but I needed gloves and bags for the weeds and stuff I cleared or will be clearing out plus a ton of mulch for the easement and other garden filler. While I was there I got several bags of dirt and a couple other things (giant sunflower seeds! Lets see if they sprout this year) and hauled the millionty pound cart to the check out. I paid and the cashier was all "ThankyouKBai!" and that was it. No "16 heavy bags plus other things….would you like help?" despite the HD perky radio telling me that HD was always happy to help. Always happy to help when it's not ugly out they mean. Next time I'm dragging LG along because we would have had at least 7 people offer to help. She had someone offer to help her with her plants at Coleman's and she only had one flat. That she was carrying!
Grump. At least I'll have peppers and the mulchiest gardens in these parts.
---
2010: No plants, no post.
2009: JSFR: Rice Cake Strawberry
2008: Regardless, the coworker told everyone of the impending happiness three months from the due date and I was all "ARGH! TWINS! I CAN'T MAKE TWO BLANKETS IN THREE MONTH'S TIME! ARRRGH!"
2007: Too busy thinking about plants to update.
2006: There are a lot of plants to think about.
2005: Guess who took a nap Friday and guess who fell asleep and thereby failed to wake up the napping person for Stargate.
2004: I should be practical and only buy plants that I have room for.
2003: I am clam happy if my toes are vibrant purple, shiny copper, bright arrest me red or goth black and occasionally I'll mix and match if I am feeling up to it.